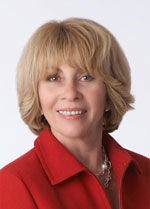 Jocelyne Monello
REALTOR, CRS, GRI, RECS
(707) 224-8281
"Heritage Sotheby's International Realty"
Email: JMonello@gmail.com















Heritage Sotheby's International Realty
780 Trancas Street
Napa, CA 94558

Direct: 707-224-8281
Fax: 707-251-8362

Each Office is Independently Owned
and Operated



Here is what some of my clients have said:

"This is a note to tell you how happy my wife, Gloria, and I are at the way you handled our account while looking for a place in Napa Valley. I was very impressed with the very business-like way you presented the properties and had all necessary information for me to appraise them. You gave me the full background on each piece, as well as the pros and cons, which was important for me in making a decision. Everything about you and your operation was first class and I certainly appreciated the entire experience". David L. Wolper
"I am thoroughly satisfied with Jocelyne's professionalism and the thoroughness with which she handled the transaction. She's a real pro. Jocelyne did a great job understanding what we were looking for in a home... and in locating exactly what we wanted. Our expectations were exceeded and we were really very surprised with how painless Jocelyne made the whole process". Fred Cooper
"Ten on a scale of 1 to 10... Would recommend her without hesitation." John & Helen Klewin
"When I tell people here in the Valley that Jocelyne is my agent, many of them either know her or know about her. One couple who has lived in the Valley all their lives told me that Jocelyne is the cornerstone of Napa Valley real estate. An agent gets that kind of reputation from years of professional service to clients. Our recent sale and purchase demonstrates the kind of commitment and professionalism I've always gotten from her. I am proud to say that Jocelyne Monello is my real estate agent. I often refer friends to her because I know they will receive superior service and be well satisfied." Greg Haywood & Reid Moran
"I couldn't have done it without her. She was positive and responsive while working diligently for me... Jocelyne came well recommended and proved to be as knowledgeable as portrayed. 100% satisfaction. Karen Mulholland
"Thank you for the professionalism you displayed... the sale of our residence was extremely complicated and you showed great ability to adapt to the situation and solve the problems." Richard & Helen Poe
"Enjoy working with Jocelyne, we have the highest respect for her skills and knowledge, and enjoy her company on a personal basis as well." Billy & Mary Williams
"Her excellent knowledge was shown in every aspect of our home sale." John & Pat Kaye
"Personable, professional, friendly, knowledgeable, respectful, hardworking. Jocelyne is the best. We have done three closings with her and will use her again. I have referred many customers to her. She is top notch." Cathy Smith
"Jocelyne did an outstanding job in assisting with the sale of our home in Napa. She was always accessible and responded promptly to any questions we had. We are very pleased with Jocelyne's professionalism and the overall management of the sale process." Dennis & Joan Burns
"Jocelyne actually worked hard to represent the property and make a deal happen. She made good recommendations about how to prepare the property for sale. We had this property listed with another agent for one year without results. Thanks, Jocelyne!" Bill Garnett
"We have bought and sold numerous properties throughout the world and have never found a more professional, committed and knowledgeable Real Estate agent as Jocelyne. She is a treasure!" Ray and Judy Richards
More letters and references available upon request.